Home Sale, Containers Equal Instant Garden
Not just great accents to porches or window ledges, containers are ideal for adding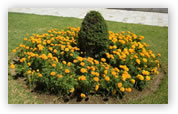 interest anywhere in the yard. Container gardening is the fantastic alternative or complement to traditional flowerbeds. And, with proper planning, they're easily maintained (no weeding required) and featured just about anywhere - from entryways and patios to apartment balconies.
Chances are you've got some old pots and planters kicking around somewhere. Try using some of these suggestions for creating interesting containers as accents this year:
Determine where the container is going to go, so you know whether you'll need shade/part shade or full sun plants, as well as those that may need extra care
Use unusual plants or combinations for a little extra zing
An all-green container can be beautifully interesting, combining different shades for something unique
No flowers required – a combination of foliage plants can be colourful all on their own
Attract winged friends with butterfly or hummingbird-attracting plants and flowers. If you're planting for hummingbirds, keep a feeder stocked with their sugar and water mix nearby
Vary some plants by season, and plant faded spring bloomers in the garden, replacing them with vibrant summer flowers, then switch to fall items like mums in September. Plant only one or two items that may need swapping out – that way you don't have to constantly replant, and your container will always look great
Mix textures from ornamental grasses and other "old stand-bys" for a dynamite effect
Single-color plantings are simple and elegant. Try planting a mix of all-silver plants for something different
Contrasting colors and vibrant tropicals will create drama
Get creative and try out new plant combinations and container arrangements for a signature look and a truly unique way to dress up your home for sale.
Contact me at 613 831 9287

Trademarks owned or controlled by the Canadian Real Estate Association used under license.